CURS "Psihodiagnostic si interventie clinica in tulburarea de stress posttraumatic. Redactarea protocolului de examinare psihologica", aprobat de Colegiul Psihologilor din Romania cu 10 credite CPR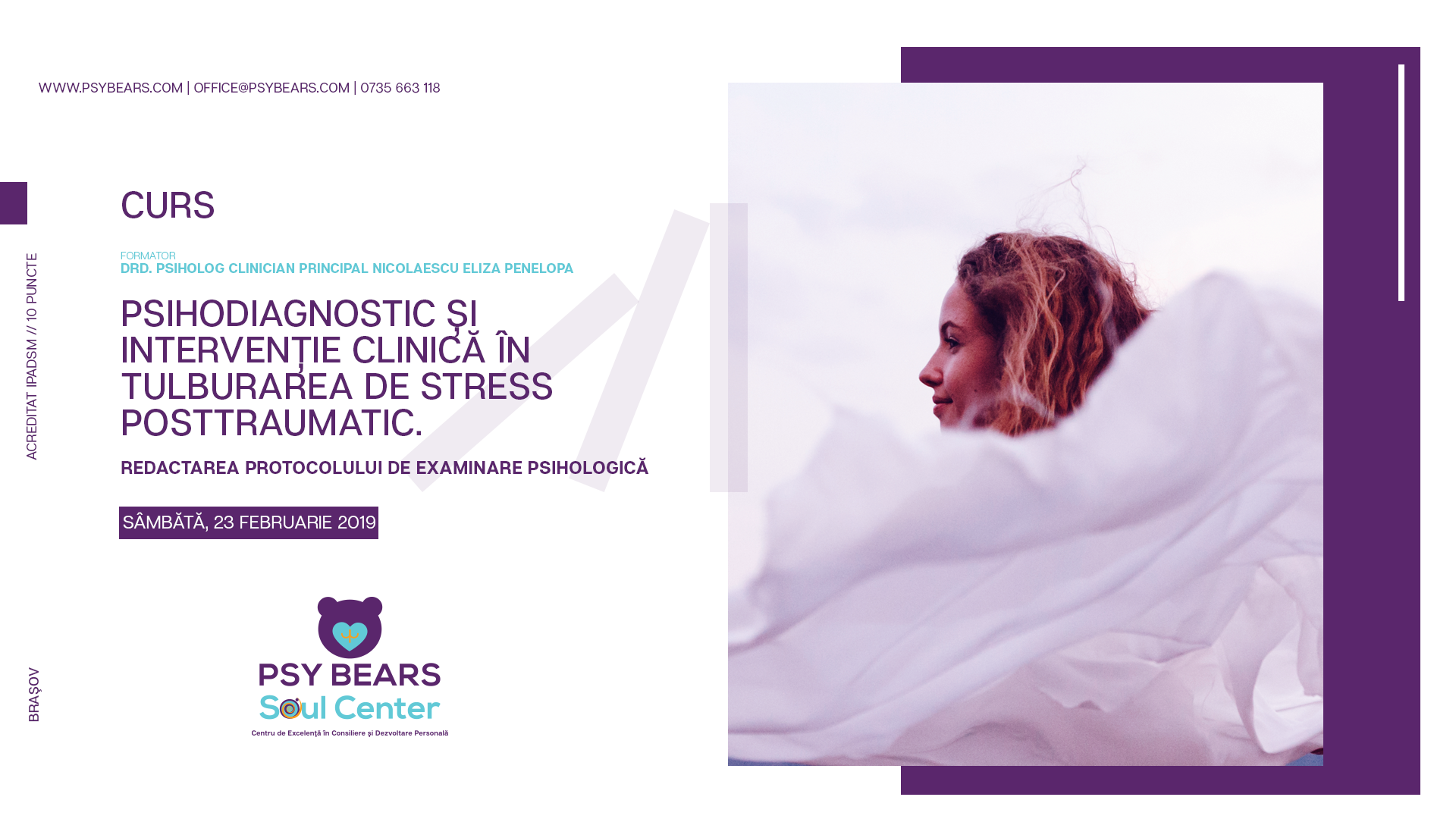 23 Februarie 2019
Formator: Drd. Psiholog clinician principal Eliza Nicolaescu, doctorand si supervizor in psihologie clinica, Centrul de Sanatate Mintala Ilfov, membru al Comisiei Medico-Legale Psihiatrice din cadrul IML Ilfov.
Ce este si cui ii este adresat Cursul "Psihodiagnostic si interventie clinica in tulburarea de stress posttraumatic. Redactarea protocolului de examinare psihologica"?
Cursul este aprobat de comisia de specialitate CPR si se adreseaza psihologilor clinicieni in supervizare precum si celor cu treapta de autonom si specialist.
Ce informatii primesti la acest Curs?
Cursul are la baza informatii si activitati practice, respectiv:
Prezentarea probelor si metodelor utilizate in evaluarea clinica a adultului si copilului: Modele de interviul clinic si fisa de observatie clinica
Teste si metode specifice utilizate in evaluarea clinica in acest areal problematic: Inventarul clinic multiaxial MCMI-III, Chestionarul STAXI-2 (State-Trait Anger Expression Inventory)
Testul completare de fraze adulti (Testul Rotter), Testul de Aperceptie Tematica – T.A.T, Testul Luscher, Scala Impactului Evenimentelor Horowitz, Test PDSQ (Mark Zimmerman) etc.
Ilustrarea evaluarilor psihologice in studii de caz concrete
Materiale si probe alternative celor clasice.
Care este structura si temele abordate in cadrul  Cursului?
Prezentarea notiunilor introductive, a problematicii diferitelor abordari ale evenimentelor traumatice si a tulburarii post-traumatice de stres din perspective diferite ( DSM-IV, ICD-10, DSM- V)
Tulburarea post-traumatica de stres: concept, etiologie, manifestari, prevalenta
Diferentierea conceptelor si criterii de diagnostic specific. Reactia posttraumatica, tulburarea acuta de stres si tulburarea de stres posttraumatic
Redactarea protocolului de examen psihologic in cazuri specifice. Prezentarea diverselor protocoale psihologice in functie de scopul evaluarii, recomandari si contraindicatii
Procesul de evaluare si interventie clinica in TSPT: etape, tehnici, instrumente si strategii
Prezentare si analiza de studii de caz reprezentative pentru TSPT.
In ce perioada si care este durata cursului?
Sambata                           23 Februarie  2019                     Orele 10:00 – 20:00
Care este LOCATIA?
Centrul de Excelenta in Consiliere si Dezvoltare Personala
PSYBEARS SOUL CENTER
Adresa: Str. Mihail Kogalniceanu nr. 20 bl.1K sc. D ap.9 Brasov
Contact: 0728 094 898 l 0735 663 118
Care este tariful si cum platesc?
250  lei / cursant
se achita prin transfer bancar catre:
IPADSM Asociatia Institutul de Psihologie aplicata in domeniul Sanatatii Mintale
Cont: RO05INGB0000999907042439
Banca: ING BANK
CIF 36389295
cu mentiunea "Taxa Curs acreditat IPADSM"
Nota
Persoanele care participa la ambele cursuri din acest week-end respectiv 23 – 24 Februarie 2019 ( CURS "Psihodiagnostic si  Interventie clinica in tulburarea de stress posttraumatic. Redactarea protocolului de examinare  psihologica", aprobat de Colegiul Psihologilor din Romania cu 10 credite CPR si Redactarea protocolului de examinare psihologica. Evaluarea si psihodiagnostic in psihologia clinica aprobat de Colegiul Psihologilor din Romania cu 15 credite CPR), au parte de discount si vor achita 500  lei.
 PROGRAM
| | |
| --- | --- |
| Luni – Vineri | 09:00 – 16:00 |
| Sambata | Evenimente |
| Duminica | Evenimente |
  ADRESA
For privacy reasons Google Maps needs your permission to be loaded.
I Accept