Workshop "Daca eu sunt fericita, si familia mea este fericita!"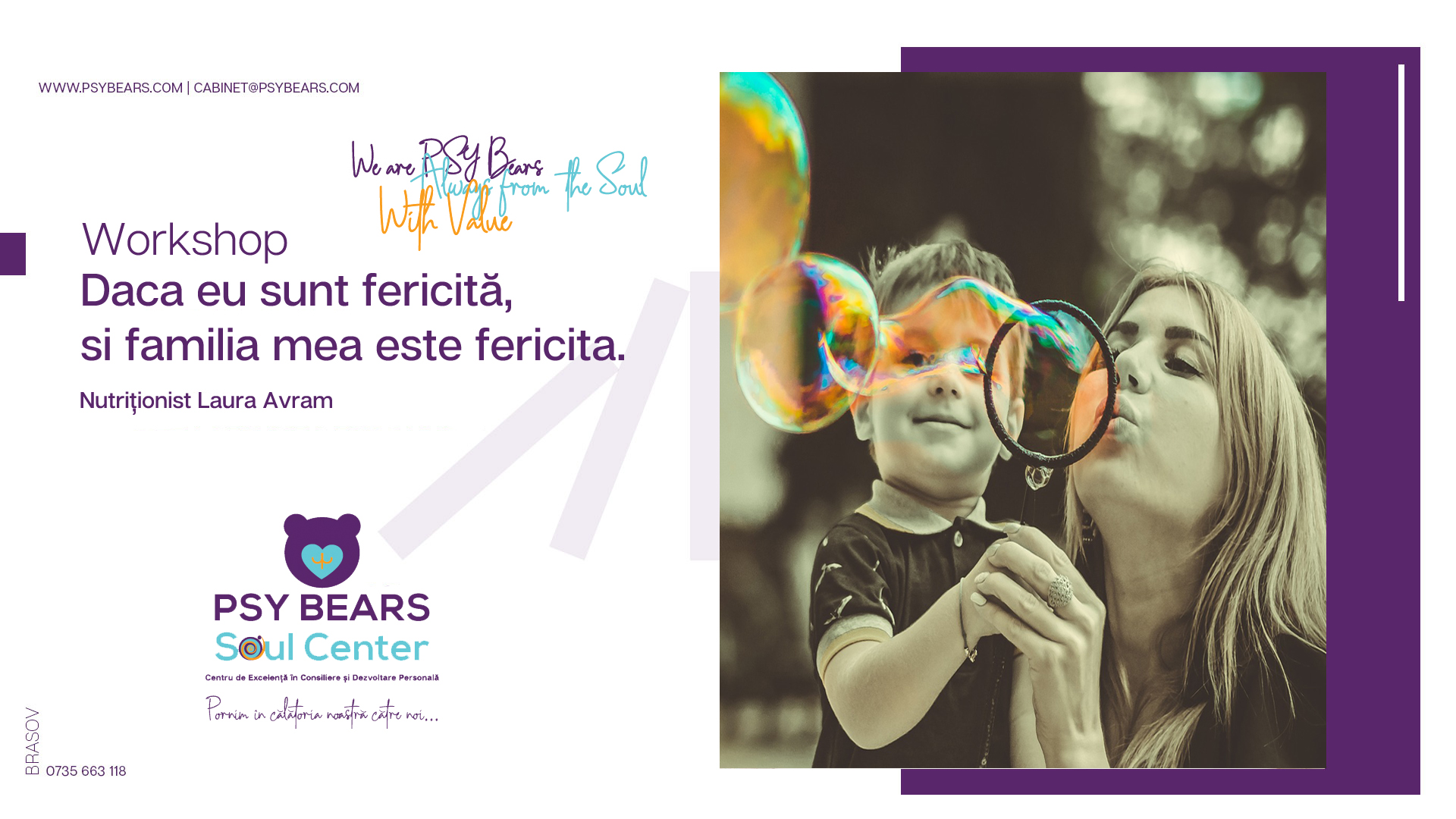 28 Februarie 2019
Nutritionist: Laura Avram
Care este mesajul acestui Workshop?
"Imagineaza-ti că se intamplă,
Crede că se intamplă
Si se intamplă!"
Ce este fericirea cand traiesti in lumea contemporana, cand traiesti printre bani si alta lume, bunuri si adictii?
Invataturile parintesti, obiceiurile lumesti, ne-au facut sa avem impresia ca suntem fericiti cu adevarat doar dupa ce ne realizam anumite teluri, dupa ce achizitionam bunuri, dupa ce am dobandit o anume situatie materiala sau stare maritala… dupa ce cucerim lumea…
Cum este sa fii FERICITA stiind ca esti TU, singura care face totul sa conteze cu adevarat?
Bunurile, dependentele, avutiile… tot ceea ce este material TU le accepti in viata ta sau nu…
Cum este sa te simti fericita indiferent de ceea ce se intampla in viata ta, sa stii ca TU iti esti de folos si de ajutor si tie, si prin propriul exemplu lumea din jurul tau devine pur si simplu mai buna…
Cum este sa te intrebe cineva "Ce mai faci?"/"Cum mai esti?" Si tu sa raspunzi cu sinceritate, din inima: "Sunt FERICITA!"
Sa fii fericita, in esenta, inseamna sa te simti fericita dupa ce lasi de-o parte toate avutiile, bunurile, aductiile si dependentele, cand stii ca pe TINE te poti baza cu adevarat, ca esti aliatul tau, ca orice s-ar intampla TU esti singura responsabila de fericirea ta si alaturi de tine, intreaga ta familie se poate bucura de multumire, satisfactii, sanatate si in primul rand, de FERICIRE.
Elibereaza-i pe cei din jurul tau de povara de a incerca sa te faca fericita, pentru ca TU poti sa fii FERICITA doar pentru ca esti TU!
HAIDE sa faci SCHIMBAREA si sa simti fericirea autentica!
In ce perioada si care este durata Workshop-ului?
Joi 28 Februarie 2019 orele 17:30 – 20:00
Care este LOCATIA?
Centrul de Excelenta in Consiliere si Dezvoltare Personala
PSYBEARS SOUL CENTER
Adresa: Str. Mihail Kogalniceanu nr. 20 bl.1K sc. D ap.9 Brasov
Contact: 0728 094 898 l 0735 663 118
Care este tariful si cum platesc?
Tariful de participare: 110 lei / persoana
Plata se face prin transfer bancar catre:
Avram M. Laura PFA
IBAN:RO90OTPV210001180598RO01
Banca: OTP BANK
CIF 39744731
cu mentiunea "Taxa Workshop Daca eu sunt fericita, si familia mea este fericita ".
 PROGRAM
| | |
| --- | --- |
| Luni – Vineri | 09:00 – 16:00 |
| Sambata | Evenimente |
| Duminica | Evenimente |
  ADRESA
For privacy reasons Google Maps needs your permission to be loaded.
I Accept